A burglary and a massage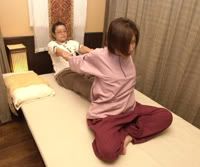 Yes indeed, Japan has it's fair share of stupid/funny/wierd criminals. This latest story comes in the form of a burglar giving a victim a massage.
In Tokyo, a South Korean man broke into a 35 year-old woman's house tied her up and stole almost $2000 cash and her bank card. After tying the woman up and stealing some of her money, he decided to give a massage in order to relax her. He reportedly gave her a shoulder massage for several hours. Police assume that the burglar did this also to kill time and wait for bank cash machines to open.
Odd? Yes, this is one of the most peculiar stories I've read about in a while.
This guy and this guy are now given a run for their money. Those guys were just unlucky though. The criminal this time was just odd. But, this Chinese guy still takes the cake when it comes to odd crimes.