Ultra-cool Hong Kong action director Yuen Wo-ping says that he fears that there will not be a new generation of martial arts action stars. Yuen credits the intense difficulty of martial arts and a less-active Hong Kong culture.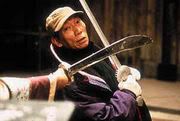 This is surely a shocking statement from such a well-respected talent. If anyone would know the state of things though it would be a master director such as Yuen. He does suggest hope though in the form of younger Chinese actor Wu Jing.
It is important to know that actors such as Jet Li did not come from Hong Kong though. Li went to school in Beijing and became China's national martial arts champion. When Jet Li was young he even performed for then President Nixon on the White House Lawn. This was done for China of course.
10-plus years ago China was seperate from Hong Kong and Jet Li and even Jackie Chan broke into that scene. If they could do it then, it should be easier now. Therefore, if Hong Kong lacks action talent, there will be some that come from mainland China. Let's just hope the HK brand of martial arts action never dies.